1941 Mary Howe: Three Pieces after Emily Dickinson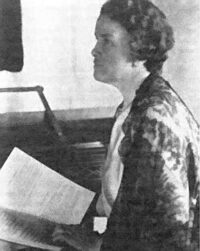 Mary Howe componeerde in 1941 werken, geïnspireerd door Emily Dickinson. Mary Howe (1882-1964) was een Amerikaanse componiste en pianiste. Ze woonde en werkte in Washington en speelde een belangrijke rol in het leven van de stad. Ze hielp bij de oprichting van het in Washington gevestigde National Symphony Orchestra. Ze was ook een van de oprichters van de Society of Women Composers. Ze bracht verschillende zomers door in de MacDowell kolonie, een toevluchtsoord voor kunstenaars. Daar componeerde ze veel van haar werken.
De drie werken zijn:
1. De Zomer van Hesperides
2. Vogels, in de Sneeuw
3. God aan de Grens.
Elk werk is gekoppeld aan de laatste regel van een gedicht van Emily Dickinson. Zoals Mary Howe uitlegde: "Om de een of andere mij onbekende reden riep de laatste regel van elk gedicht in mijn gedachten niet een muzikaal thema op, maar het soort muziek dat ik wilde schrijven."

Uitgevoerd door leden van The Chamber Arts Society of the Catholic University of America:
Werner Lywen, George Steiner en Norman Lamb en John Martin.